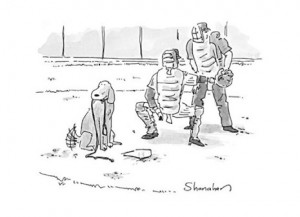 May 12: Thunder Bay 3  Hamilton 4
The Mounties win the game in the 14th. More importantly, *justice—honest-to-god righteous, universal karma—is delivered*. You see, all right-thinking people abhor the intentional walk. Is it necessary. Yes, I suppose it is. But it isn't sporting. Every baseball fan wishes, in his or her heart, that the baseball gods would reach down from the heavens and smite down each team that walks a player intentionally.
In the 14th, Kevin Boivin earns an honest walks. A sac bunt advances him to second. And that's when Thunder Bay intentionally walks Garry Batchelor. The pitcher then balks, putting runners on second and third with one out. So Thunder Bay intentionally walks Jorge Fernández. Two intentional walks, both perfectly reasonable, of course. Mike John comes to bat next. The poor Caribou pitcher, having forgotten what it was to throw a strike, walks John on four pitches. Without a hit, the Mounties score a run and win the game.
Make no mistake, my friends, the baseball gods spoke.
May 13: Traverse City 2, Detroit 3*
Oh ye of little faith! In the bottom of the 11th, Detroit's Tim Spaulding singles. A wild pitch moves him to second so Traverse City blasphemes against the baseball gods by intentionally walking Ross Knapp. Jean-Pierre Gauthier's fielder's choice puts runners on the corners, and Gauthier promptly steals second. With runners on second and third and one out, Traverse City again blasphemes and intentionally walks Mark McAskill, Denis Delmas comes to the plate, and—dear reader, you already know what punishment the gods inflicted—the Traverse City pitcher walks him on four pitches.
-M.A.