The Chicago Architects are trying to win their 3rd title but are down 0-2.  History tells us being down in the playoffs means very little to this team.  They have rallied from 0-3 deficits before so 0-2 probably seems inconsequential, or at least it does not evoke the feeling of doom that some GM's might feel in this position.
Chi GM Al Borie had this to say this morning, "Oh, they're off to a decent start. In their case they won't have a chance to lose one at home until Game Six, and they may have wrapped it up by then. You gotta like their chances.
But I like mine too. I have no idea who the better team is, but mine has always had a tendency to fall behind and come back."  The small sampling of 4-0 in the regular season points toward Hamilton as the favorite, especially up by two games.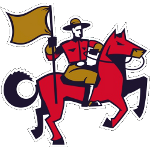 But, the Hamilton Mounties are all too familiar with being the last minute bridesmaid and not the bride as they, more than any other ball club, have come the closest to winning a championship only to fall just short.  Witness last year as they took a 2 run lead into the bottom of the 9th only to see the game tied before losing in extra innings to the Duluth Sea Gulls.  Hamilton has never had a losing season and this is their 4th trip to the post-season with many wondering, if not speculating, that maybe it just might be their year.  The unlikely hero of game two was light hitting George Huffman batting .143 for the post season but it was the two singles in the 2nd and 4th that accounted for two runs batted in and the difference in the 3-2 win.  He was but 1 for 21 heading into yesterday's contest.
The series heads to the Windy City where Arvin Northeast will take the hill while being opposed by Roosevelt Gilbert, coming off a stunning 8.1 IP shutout of Toronto.  At the same time it was Arvin Northeast who slammed the door on Toledo with his 8.0 IP/ 0 Runs effort that punched the Architects ticket to the Championship Round.
"Read the highlights and thought HAM was off to a decent start, but you're never in trouble til you lose at home – so they say!", were the comments of Owen Sound GM David Jones, but in the case of Chicago they not only can't risk a loss at home but they have to win on the road.  Using the above logic the Mounties simply need to take care of business in Hamilton to earn the status GLBL Champions for the first time in their history.  The roadblock?  Chicago loves to come from behind and is famous for crushing the dreams of their opponents.