In 2038, the Toronto Maples survived a tough Canadian campaign, upset first-place Owen Sound in the playoffs, and dispatched a Cinderella Toledo team to win their second Championship.
The two leagues could hardly have been more different this season.
In the States, first place was effectively clinched by the All-Star Game. Chicago took charge immediately and coasted to their ninth first-place finish, finishing with an 87-57 record and 16-game lead. The Architects once again showcased a deep team. Eight players reached double-digits in home runs. The leader in the lineup was once again star shortstop Daniel Huffman, who hit .272 with 29 home runs and 81 RBIs. Four starting pitchers reached double-digits in wins. Jeff Michaud took his impeccable control to a new level: his 16 wins not only led the league, they matched the total number of walks that he surrendered on the season. Michaud won his second Lake Michigan Pitcher of the Year Award. António Méndez finished third in POY voting despite going only 8-4: his 2.43 ERA led the league.
None of the other five American teams finished with a winning record. Duluth's big three of Harvey Ormon, Stefan Herrmann, and Javier Castillo put up magnificent numbers. Ormon and Herrmann led baseball with 37 home runs apiece, and Herrmann led baseball with 105 RBIs. Ormon hit .331 and drove in 93 RBIs. He also scored his 1000th career run, drove in his 1000th career RBI, and won his fifth Lake Superior Player Award. But the magnificent numbers didn't translate into wins. In Traverse City, Pedro Morales had another outstanding season, hitting .307 with 19 home runs and 73 stolen bases, but he couldn't keep the Bears from finishing last for the first time in 14 seasons. Milwaukee's on-base machine Markus Teigland once again led the league in walks, drawing 116 this year, but he had little help in the lineup and only scored 72 runs.
To everyone's surprise, even theirs, it was Toledo who won the wild card race. Seemingly out of it in mid-season, they got hot in the second half and took over second place in August. Fans took up a rallying cry: "I guess we believe." The Neptunes were led on offense by third baseman Ricardo Riveraa. After finishing third in the previous season's Rookie of the Year voting, the sophomore won the 2038 batting title, hitting .349 with 32 doubles and 17 home runs. Right fielder Alejandro Rodríguez hit .332 and led the league with 167 hits. Ryan Ward put together a second solid season on the mound, going 11-8 with a 2.67 ERA.
In Canada, all six teams were together at the half-way mark. On the back stretch, Owen Sound galloped to the front while Thunder Bay and Windsor dropped off. Hamilton took the inside track and looked strong around the final turn. Coming around the turn into the backstretch, Kingston challenged on the outside but couldn't keep up the pace. Toronto charged up the middle. Owen Sound won by a length while Toronto nosed past Hamilton to place.
Windsor's Gustavo Gómez hit .334 and won the batting title. He edged out Hamilton's Arthur Walker, who hit .330 and led the league with 172 hits. Kingston's Dennis Wemp won the Lake Michigan Pitcher of the Year Award, going 15-6 with a 2.37 ERA and leading the league with 179 strikeouts. Thunder Bay's Pete Haynes posted a 1.81 ERA, the lowest mark in 18 seasons.
Waverider Brett Collins led the league with 30 home runs and 87 RBIs. A big boost to the lineup came from the emergence of 24-year-old shortstop Shane MacKinley, who hit .283 with 32 doubles and 16 home runs. Geoff Harris chipped in with 26 home runs and a league-leading 79 walks. On the mound, Eddie Henderson led the league with 17 wins. He also posted a 2.65 ERA. Mark Roswell (12-7, 3.07 ERA) and Gordon Blais (11-5, 3.58 ERA) also had strong seasons.
Toronto was led, once again, by Clyde Benson. He hit .294 with 23 home runs, scored 103 runs, and stole 77 bases while only being caught 8 times. He made his twelfth All-Star Game and won his sixth Lake Superior Player Award. In July, he got his 2,000th hit. The 35-year-old's only sign of aging was in moving from center to left field. He did alright there, winning his seventh Flashing Leather Award.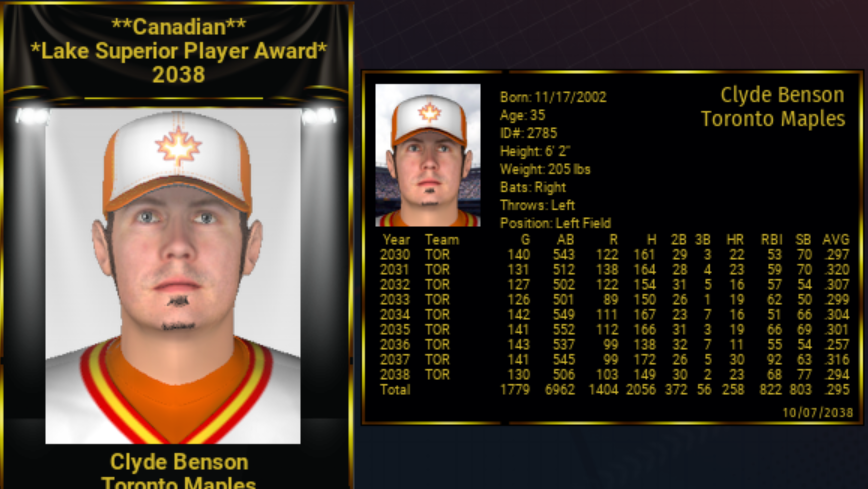 Benson's long-time running mate Nelson Wooten led the Maples with 29 home runs—his tenth straight season with at least 20 home runs. But it was a pair of 26-year olds who really bolstered the offense. Shortstop John McIlmoyle hit .291 and tied for the league lead with 87 RBIs. Dave Dodd finished as the runner-up to Benson in the Lake Superior Player Award. He hit .285 with 23 home runs and 36 stolen bases while playing an exceptional right field. The red-haired Dodd proved to be a fan favorite, with a raucous "Dodd Squad" cheering him on from the right field bleachers.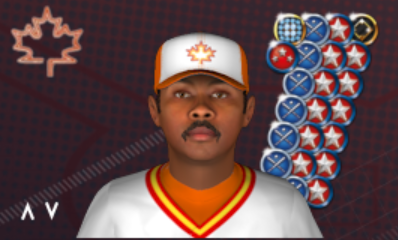 On the mound, the biggest surprise was the bullpen. In 2037, Toronto's bullpen was league-worst. That off-season, their best bullpen arm, Pat Bailey, left town to sign with Chicago (where he won the Lake Ontario Relief Award). But Irving Van Capelle emerged as a closer option and saved 36 games, and rookies Mark Sabine, Robin Bates, Earl Cairns, and Tony Nelson stepped up: each appeared in over 50 games and logged quality innings. The abundance of arms allowed the Maples to go to the bullpen early and often. With so many innings being logged by the bullpen, only two starters reached double-digit wins. Nick Lane went 14-7 with a 3.05 ERA and won Lake Heron Rookie of the Year. Robbie Lucas (10-7, 3.55 ERA) struck out 104 and walked just 23.
In the playoffs, Toledo lost their first two games to Chicago. Had the clock struck midnight and the Neptunes turned back into a pumpkin? Not quite. In their hour of need, Jorge Aguilar and three relievers combined on a three-hit shutout. Aguilar also singled in the game's only run, and Toledo took game three, 1-0. The Neptunes went on to win the next three games and brush aside the Architects in what must surely rank as one of the biggest playoff upsets in league history.
In Canada, Owen Sound and Toronto traded victories, but the Maples offense asserted itself and Toronto won games five and six in blowouts. Clyde Benson had the best series of his playoff career, going 10-for-22 (.455) with four home runs.
This was Toledo's fifth Championship series and Toronto's fourth, but this was the third time that the two teams would play each other for the Championship. Toronto beat Toledo in 2029 to win their first Championship, and Toledo beat Toronto two years later in 2031 to win their second. In this Championship Series, Toronto got the breaks. The Maples won the first three games. Game one was decided in extra innings, and game three was a 1-0 victory. This time, the hole was too big for Toledo to climb out of. They won game four, but in game five Toronto scored six runs in the fifth and won, 8-6. Backup outfielder Daniel Rivera was the surprise series MVP, hitting .533 with three home runs and seven RBIs.
"After we won our first Championship in 2029," said Toronto General Manager Martín Abresch amidst the champagne celebration in the visitor clubhouse, "I had little doubt that Toronto would soon win a second. It's been nine years. We've had near misses and disappointments since then, and I guess it goes to show you that Championships do not come easy in this league."
"It took a lot of work to get back to this stage," he added, "I'm going to savor this one."