The Traverse City Bears were the last team standing in 2040, doing it the hard way as the Wild Card.  A team that was good enough to take down the favorite Chicago Architects was not going to be stopped by the Canadian Wild Card entry, the Hamilton Mounties (79-65).  Just 74-70 in the regular season the Bears found a way to bring it all together come playoff time.
Who other than Pedro Morales could lead the Bears to the championship?  His 4.7 WAR, .832 OPS, and 61 stolen bags all contributed to the success of the team.  The durable 28 year old played in 140 of 144 games.  If 80% of it is just showing up, Pedro showed up, big time.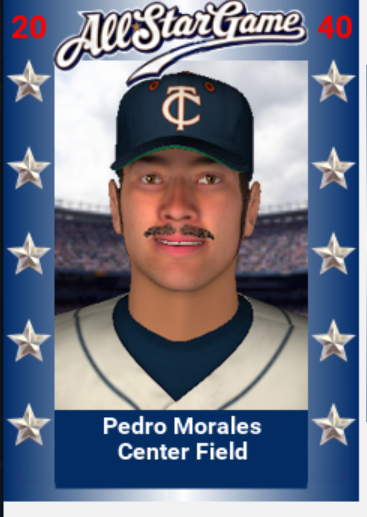 Pedro is a 10 time All Star, winner of 9 Silver Slugger Awards, and one time MVP.
On the hill Craig Johns (15-5) and Steve Klassen (11-8) combined to give TC 376 innings of starting pitching and collectively netted 7.4 WAR.
The Dynamic Duo 
 (Klassen on the left and Johns on the right)
The Bears entered 2041 with the #9 payroll in the league a testament to the adage that small market teams can still win without running up deficits.  It was bullpen by committee in Traverse City but Mike Auger captured 22 of the 41 saves.
The Bears have made just five post season appearances but have come away with a pair of titles.  Congrats to J. Burns and his TC Bears!