It took just 6 games to win their first Great Lakes Baseball League Championship but then, again, it took 7 years to finally achieve that goal.  Perpetually knocking on the door only to come up just short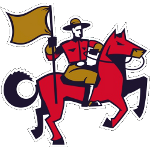 the Mounties finally negotiated the last hurdle by leaping over the Chicago Architects with their 5-4 win at Lakeside Park.
The Architects and Mounties had identical 82-62 records but Hamilton owned Chicago in the brief regular season by winning all four games by scores of 2-0, 10-4, 6-4, and 3-2.  And, on this first day of October, catcher Joe Kelley made sure the Mounties would take home the grand prize as his solo shot in the 3rd inning was the difference.  So, the life time record of 536-452 (second only to Chicago) now has a championship banner to secure the reputation as one of the top teams in the history of the league.
For the Canadian League it was sweet stuff indeed to see the string of USA titles arrested at five in a row as Hamilton joins Thunder Bay as the only Canadian teams to win a championship.  Geoff Boyd won the Most Valuable Player award as his relentless hitting down the stretch of the playoffs propelled Hamilton to the title.
For Chicago it was another great season that saw them win the USA championship and then compete in their fourth League Championship having won two titles to date.