Were they the best team in 2030?  Some might argue that they were not based on the overall record and the fact that it was Toledo that won the USA League Championship.  But, it might be more important who you are at the end of the season as compared with the rest of it.  Because, it was Chicago who was able to match up against Toledo, a team that specializes in grinding up their opponents on their home field.  That doesn't happen by accident, it takes a plan.
Alex Wobbema, the brains behind the team, guided his Architects to their third GLBL championship.  The first two belonged to Al Borie who now heads up Alex's old team, the Hamilton Mounties.  With Wobbema's championship, his second overall, he becomes the first GM to win in both leagues having accomplished the feat in 2021.
If there was a player who stood out it might just be the one year wonder, Phillipe Janin.  The 29 year old had 7 seasons in Windsor before inking a $13. million dollar one year deal with Chicago.  His 4.7 WAR was a career high.  Janin has since bolted for Kingston, ironically the runner up in the finals.  It will be interesting to see if Phillipe can work his magic back to back.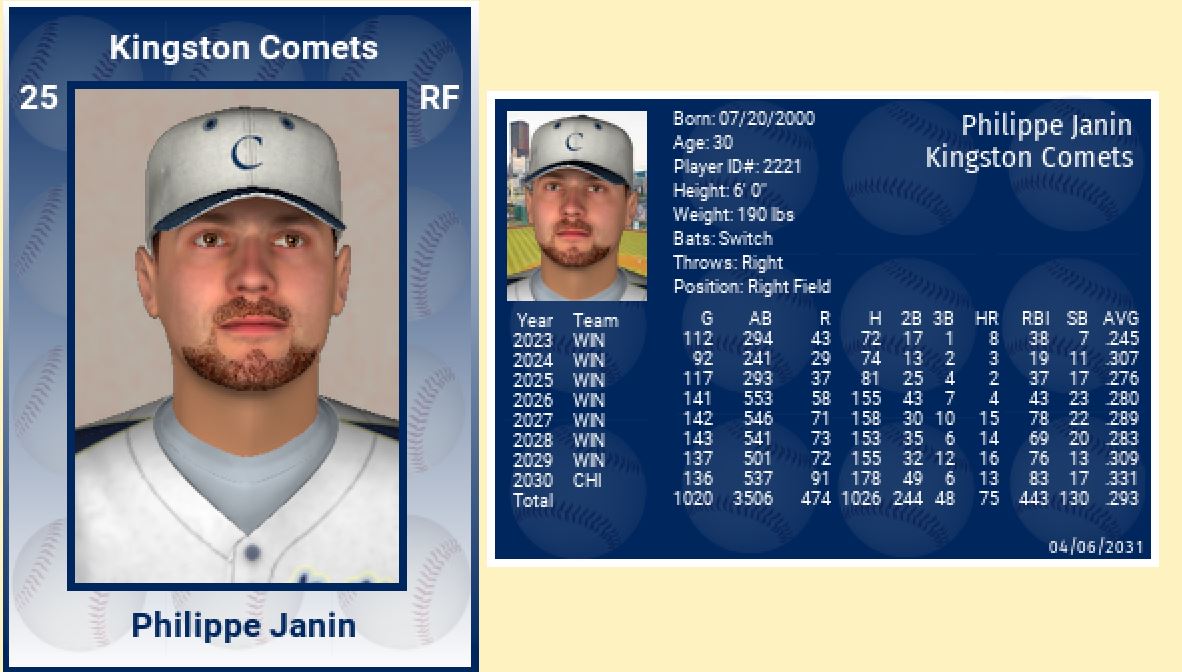 Kurt Peterson, GM of the Comets, is hoping it's true.  Prognosticators cite his team as the most improved over the off-season.
Janin tied two other Architect players for the team lead in round trippers with just 13.  He led the club in doubles with 47, Runs with 91, and was second in RBI's with 83.
The GLBL salutes Alex and his Architects for their successful 2030 season.